Following COP21 and the Paris Agreement governments representing 96% of global greenhouse emissions (GHG) and 98% of the world's population committed to reduce their emissions. They now need to ensure businesses and individuals use energy with less GHG emissions.
Currently there are two market-based options to encourage lower emissions based on higher costs for polluting industries: the carbon tax and cap-and-trade schemes (ETS). The carbon tax is a levy on the production, distribution and use of fossil fuels based on the amount of carbon emitted in that specific process, which is then translated into a tax on electricity, natural gas or oil. This system is built to encourage businesses and individuals to consume less energy or do it more efficiently, the more electricity they use the higher its cost. Therefore, the carbon tax policy encourages the use of less electricity by improving efficiency and at the same time it also makes green energy more price-competitive.
How do governments price carbon?
They put together all the costs caused by carbon emissions, such as healthcare costs, agricultural costs and others; and they tie them to the carbon used per year. It makes those responsible for the emission, responsible for the external costs of that emission too, and signals the need to reduce emissions or pay for it.
Technically, we have advanced considerably in carbon tax policies. The Paris Agreement has been a stepping stone to increase carbon pricing initiatives across the globe, in its Article 6 the Agreement provides a basis to facilitate carbon pricing. And according to the World Bank, 40 countries and more than 20 cities, states and provinces use carbon pricing –they account for 13% of annual global greenhouse emissions. Now 100 countries additional –accounting for 58% of global GHG- are planning or considering carbon pricing policies. Many of these initiatives are at a very early stage, but nonetheless they have taken that positive step which can then be the beginning of a more aggressive pricing strategy. The most promising advance for this coming year is that China is expected to implement its ETS. This would be the largest increase of GHG covered by carbon pricing.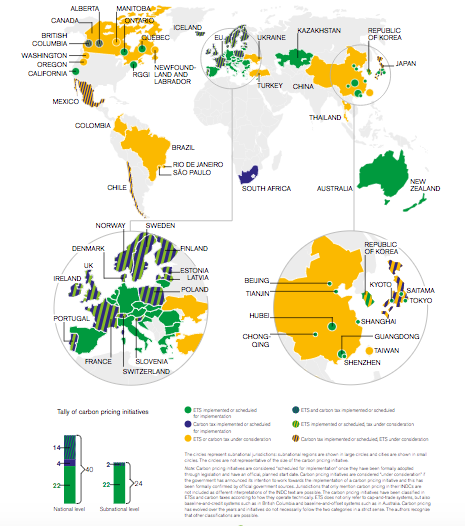 However, the reality of many regions of the world and notably of Asia shows just how challenging this can be and why these policy efforts are sometimes not felt in the actual air we breathe.
In Asia, change could translate to significantly lower global carbon emissions. Because Asia is the largest emitter – 33% of the global emissions are generated in Asia where China alone uses more coal than the rest of the world combined, any successful implementation of policies can have a huge impact globally. However, the challenge is big. India, Indonesia, Pakistan, Bangladesh and other Asian countries have a growing demand for electricity to meet their developmental needs -expected to double by 2030- and plans for this expansion rely heavily on coal fueled electricity. Nonetheless, China has a great interest to change their carbon emission trends and has set the target to peak carbon emissions by 2030 and increasing the non-fossil fuel to 20% by 2030. Similarly, India, Vietnam and Bangladesh are actively working to increase the use of renewables in the energy mix. The question is how can the solar energy or wind energy projects in all these countries be scaled-up to represent a larger portion of the national energy mix.
What can businesses and individuals do?
A quote by an American Author seems relevant at this point.
"I am only one, but I am one. I cannot do everything, but I can do something. And I will not let what I cannot do interfere with what I can do."
― Edward Everett Hale
Strive for energy efficiency because you can!
Sources:
HowStuffWorks – How Carbon Tax Works
The World Bank – Pricing Carbon
The World Bank – Asia Can Help Lead the Way to Climate Change
The World Bank – State and Trends of Carbon Pricing 2016
Ministry for the Environment – Ministerial Declaration on Carbon Markets
Climate Central – The West's Largest Coal Plant May Close.It's a Big Deal.