11 key benefits of meo software & cloud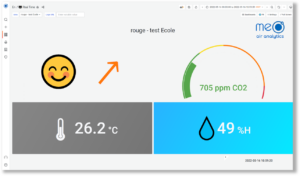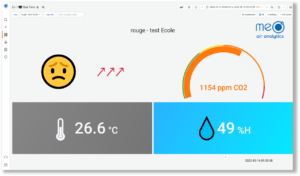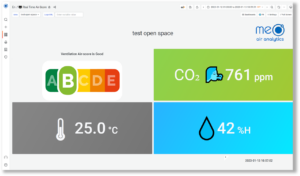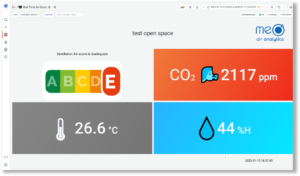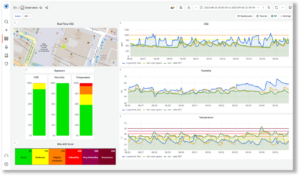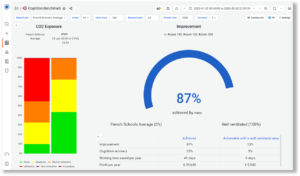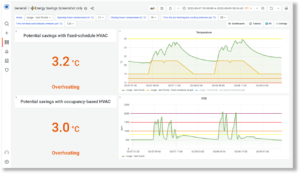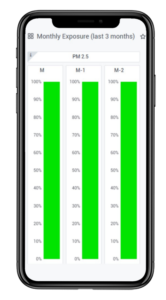 Save energy
by reducing the gap between the temperature targets and the reality. Each temperature degree costs 7% of the energy bill according to French regulation body ADEME.
Visualise health impact from time-based exposure
properly calculated from each area's opening hours (rooms, cantine …).
Get ESG data for reporting
available in your favorite format through download from app.meo.life or through API call.
Visualise a whole premise, a floor or a room
with multiple monitors data selected in a single graph.
Get alerts to protect the people you care about
with emails triggered on customisable Alerts thresholds.
Move monitors and see each surveyed area independently
with digital twin. Visualise all historical data of each surveyed area whichever monitor was used.
Manage the users rights access with the desired granularity
with Permission settings defined on users roles and at dashboard level.
Avoid data access beyond each premise
allows you to limit users access to the premise's monitors data. You can create as many premises as you need.
Remediate immediately and automatically without human intervention
with BMS Connection (consulting) directly from meo's cloud, or through wired 0-10V command.
Integrate meo data in your architecture, at the right level
with Consulting service available for API Push, personalized dashboards or BMS integration.
11 key benefits of meo monitors
Deploy in less than 2 minutes, use it for 10+ years
with embedded cellular IoT connectivity, with up to 10 years of data. Neither box, nor gateway installation and configuration, or network subscription required.
Drastically reduce your operation cost and time
thanks to 10+ years product life and remote recalibration of sensors from app.meo.life when needed.
Ultra-low Radio Emission
compliant with French Nursery & School Regulation, with cellular communication switched off more than 92% of the time (with measurements every 3 minutes).
No data loss with cellular connectivity
away from unstable Wi-Fi or LoRa's "fire and forget" strategy having a typical 30% data loss (from a large scale measurement study).
Already calibrated out of the box
with sensors factory calibrated by Sensirion according to ISO 9001:2015, and meo factory's recalibration.
Anti-theft wall mount included
for a quick and safe installation, at no extra cost.
Energy saving mode for your monitor
with measurement interval choice ranging from virtuous 10 minutes, down to 30 seconds.
Further energy saving on the communication
with data transmission that can be delayed when areas are in low occupancy.
Choose future proof technology
with cybersecurity by Nordic, and cellular connectivity whereas LoRa is now only provided by a single operator in France.
Get new features over time with the same hardware
with Firmware Over The Air requiring no onsite operation, no cable, no specific network.
Low carbon footprint and improved availability
with meo products Made in France, having most components sourced from Europe for shorter land logistics.