The International Diabetes Federation says diabetes mellitus (common diabetes) affects around 400 million people across the world. Research in the past 10 years has shown that environmental irritants in the air and water play a role in these figures. A number of studies have now shown that air pollution has a synergy with other dominant factors and accelerates the propensity for type 2 diabetes, also known as adult-onset diabetes.
At The Duke University rats were exposed to air with highly polluted air (similar to Beijing readings) or filtered air for 19 days. The group of rats exposed to the Beijing air had 50% higher cholesterol level, 46% higher triglycerides and 97% higher total cholesterol.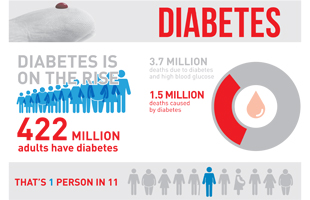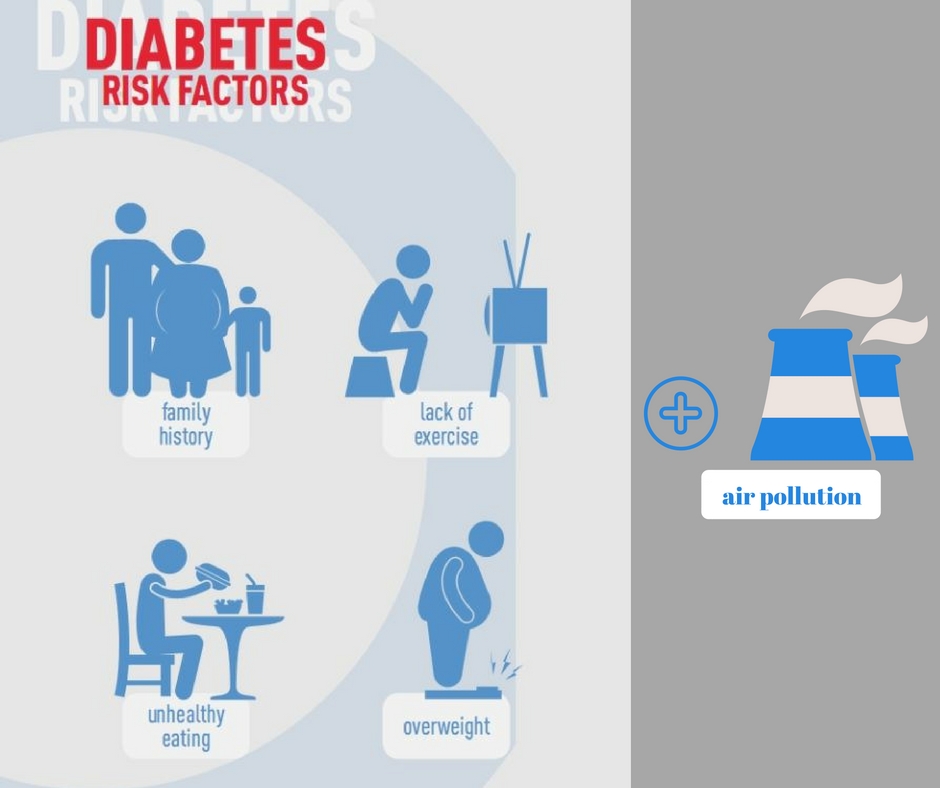 What is happening in Asia?
Yes! Many studies have been conducted analysing this relation in humans. A study by the German Center for Diabetes Research (DZD) and the Helmholtz Zentrum München showed how air pollution at the place of residence increases the risk of developing pre-diabetic insulin resistance.
"Whether the disease becomes manifest and when this occurs is not only due to lifestyle or genetic factors, but also due to traffic-related air pollution," said Professor Annette Peters, director of the Institute of Epidemiology II at Helmholtz Zentrum München and head of the research area of epidemiology of the DZD.
"The results revealed that people who already have an impaired glucose metabolism, so-called pre-diabetic individuals, are particularly vulnerable to the effects of air pollution," said Dr. Kathrin Wolf, lead author of the study. "Thus, over the long term — especially for people with impaired glucose metabolism — air pollution is a risk factor for type 2 diabetes."
Researchers from King Saudi University, Saudi Arabia, further acknowledged that traffic associated pollutants, NO2 (nitrogen dioxide), tobacco smoke and particulate matter have the strongest link with diabetes. And researchers from Naples University in Italy quantified the risk of future diabetes between 10 and 27% associated with exposure to just a 10 μg/m3 increase of PM2.5. In the most recent research, a US study looked at 1000 Mexican-Americans and found that PM2.5 exposure was significantly associated with diabetes risk factors, with an effect equivalent to that of obesity, the authors noted.
What is happening in Asia?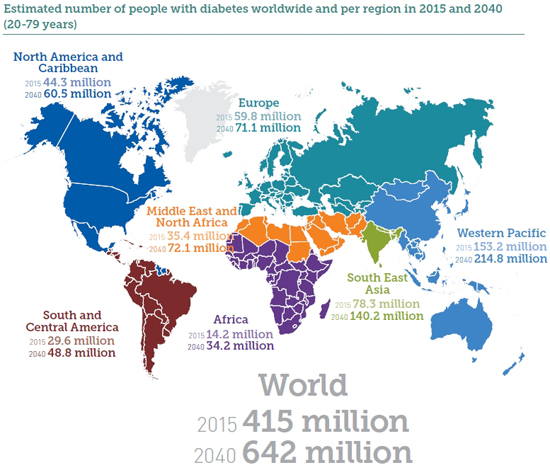 Asia is affected by the double burden of high levels of air pollution and a high percentage of the population with diabetes. In fact, Asian countries have 60% of the world's diabetic population. China alone is leading this statistic with 10% of its population (98 million) affected by diabetes. This is the result of a combination of factors: socio-economic growth and industrialization; urbanization spreading widely and notable lifestyle changes. Moreover, Asians have genetically a higher predisposition for diabetes, they develop diabetes earlier and with lower body mass index and waist circumference when compared with the Western population. Prof Juliana Chan of the Chinese University of Hong Kong says there is a complex interplay between genetic, lifestyle and environmental factors, which have been compounded by China's rapid modernisation. Worryingly, if we combine the higher predisposition to diabetes, the nearly 50% smoking rate among adult men, the change of diet due to globalization and the very high air pollution levels, we can understand the extent of the risk in Asia.
What can we do about it?
Reduce the effect of air pollutants on your diabetes risk:
Avoid smoking or passive smoking;
Know your indoor air quality and control it;
Protect yourself when exposed to outdoor air, especially when its highly polluted;
Adopt a healthy diet; and
Increase your level of physical activity.
Sources:
Diabetes Journal – Air Pollution and Type 2 Diabetes
Science Daily – Air pollution, a risk factor for diabetes
NIH -Effect of environmental air pollution on type 2 diabetes mellitus
NIH – Particulate matter pollutants and risk of type 2 diabetes: a time for concern?
REUTERS – Air pollution not just bad for your lungs
TIME – Study: Air Pollution Heightens Risk of Obesity and Diabetes