Research in London conducted by Enviro Technology Services using the Air Quality Monitoring vehicle –also known as the 'smogmobile', has shown that NO2 was on average 21% higher inside vehicles than outside. Dr. Ben Barratt, air quality researcher at Kings College in London, mentioned that these research findings add to the already existing evidence that vehicles do not protect against air pollution. In fact, he called on the need to better understand the health effects of this high pollution exposure for those who spend vast amounts of time in a car, such as taxi and bus drivers. Another recent research by El-Fadel M and Abi-Esber L also showed that exposure in-vehicle to VOC and PM2.5 is high, that the ventilation mode greatly contributes to the exposure, that 3 out of 6 cars have instrusion of own engine fumes and that air pollution was higher inside new cars than outside. In fact, taxi and bus drivers have 5 times more exposure to bad air quality than people who work elsewhere.
The new car smell
A number of studies have been conducted in the past 10+ years on Volatile Organic Compounds (VOC) inside new cars. In fact, that attractive 'new car' smell, is off-gas derived from a mix of materials used in the treatment of leather, dashboards and seats, in addition to the glues.
There can be 50-100 VOC individual compounds in any given car, including bromine, chloride, phtalates, lead and heavy metals. All of which, according to Jeff Gearhart -research director at the Ecology Center, have been linked to cancer, birth defects, allergies, liver toxicity and impaired learning.New cars have VOC concentrations above the indoor permissible levels, but luckily they fade away in the first 6 months of a car's life.Heat can increase these concentrations considerably.
PM2.5, mould spores, microorganisms and others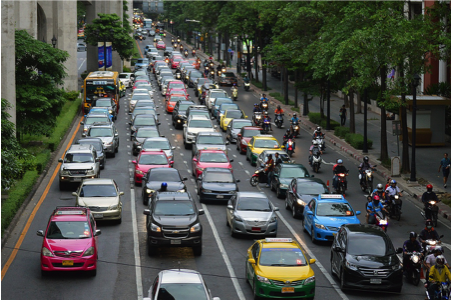 In addition to VOCs, studies which have been conducted to look into the air quality inside the cars, have found that there is also high concentration of PM2.5 and higher concentrations of carbon monoxide, benzene, toluene and fine particulate matter than in road-side monitoring stations. Moreover, studies have also found high concentrations of mould spores and bacterial endotoxins, which may induce major respiratory symptoms, allergies and are of concern to asthmatics.
How can we protect ourselves?
– Ensure car ventilation to decrease the inside VOC at a faster rate, specially in the first 6 months of a car. Either have the windows down or use air conditioning regularly.
– Use air re-circulating options when stuck in traffic to avoid excessive amounts of engjne exhaust fumes coming into the car.
– Use air conditioning to control humidity and reduce mould spores and bacterial microorganisms.
– Avoid accumulation of dust, moisture/mould or residual cigarette smoke.
Sources:
Science Direct – Indoor to outdoor air quality associations with self-pollution implications inside passenger car cabins
Explorations of everyday chemical compounds – The Chemicals Behind the 'new car smell'.
Ecology Center – New Ecology Center guide to toxic chemicals in cars helps consumers avoid a major source of indoor air pollution